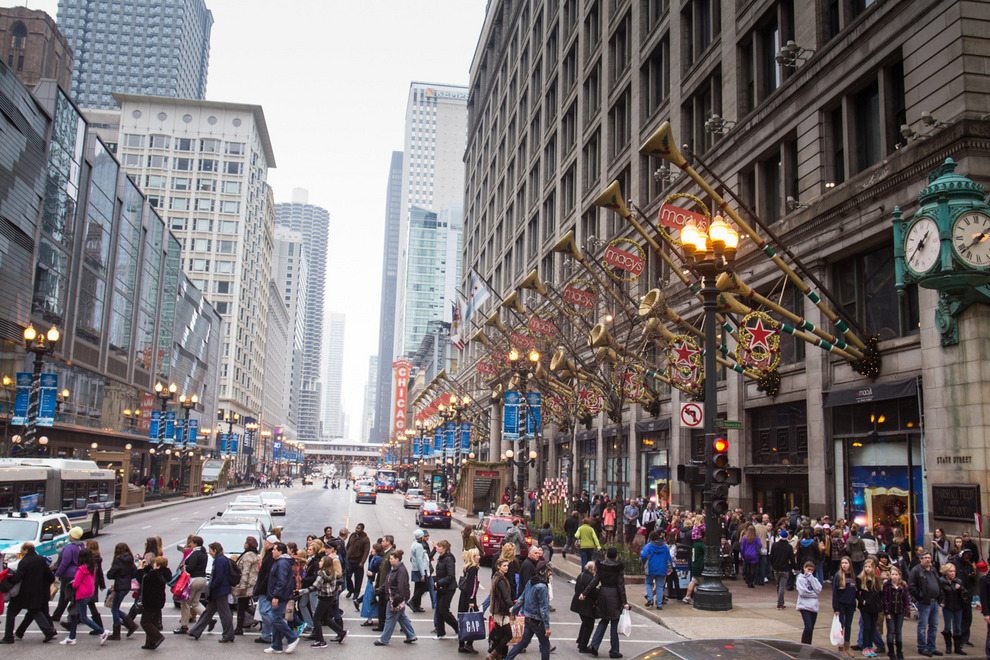 Since the late 1800s, Chicago was called the "Second City" due to its rank in population. But these days, it could be called so because this stunning city on the shores of Lake Michigan is second to none concerning culture, cuisine, and couture. With historic sites, an easy-to-navigate layout, and tons of things to consider, everyone in the family will have something to eat, see, and do.
Whether you're visiting for a few days and staying in a 5-star hotel or a longtime Chicagoan living in one of Chi-town's luxury condos, there's always fun to be had.
Michigan Avenue
This grand boulevard cuts through Chicago's well-planned grid system adding not just a good way to get from the southern part of town to the north and vice versa but a charm that rivals any of the grand boulevards of Europe. It's the ultimate location for your family to start as it affords easy access to some of the city's most visited attractions. But it has something else: shopping. Magnificent Mile, a particularly high-end stretch of this avenue is home to some of the toniest shops and boutiques in the city (over 460 of them). Names like Chanel, Louis Vuitton, Nordstrom, Saks Fifth Avenue, and Tory Burch will be familiar with parents, but kids can get in on the shopping action too at places like the Disney Store and American Girl Place. Just be careful not to weigh your family down with shopping bags, there's still more of Chicago to explore.
Millenium Park and Grant Park
While relatively new in terms of age — it opened in 2004 — Millenium Park isn't just an urban oasis where city dwellers can while away an afternoon or get a run in. It's a hub of Chicago art and architecture with structures like the Crown Fountain where projections of faces "blow kisses" while at the same time spurting out a stream of water. Visitors are encouraged to interact with the water; one engineer called it a "mini water park for the kids." Millenium Park is also home to what's become one of Chicago's most iconic sculptures — Cloud Gate. This massive modern mirror sculpture by Sir Anish Kapoor is a dreamy bean-like object that is a must-see and must-selfie location for anyone visiting the park. Just think of how easy it will be to get everyone in the family in a photo without having to ask a stranger for help!
Margie's Candies
Chicago is a town where the food falls on the savory side with mouthwatering hot dogs and the iconic almost-up-to-your-ankles deep-dish pizzas. But to balance this savory out with a little sweet, head to Margie's Candies for a bit of old-fashion Chicago sugary goodness. This legendary ice cream parlor has served its signature sundaes in a clamshell bowl to some of the world's most storied people, like the Beatles in 1965. If ice cream isn't your thing, Margie's also has handmade candies. Pro tip: Try the hand-dipped cordial cherries.
Majestic Theater
Chicago has always been a town for theater lovers. On any night of the week, you can catch world-class productions from local and international artists. There's comedy at The Second City or drama at the Steppenwolf Theater. But the crown jewel of all the theaters has to be the Majestic now called the CIBC Theater which opened in 1906 as a vaudeville house and has since hosted Chicago runs of Broadway-caliber productions like Chicago: The Musical, Wicked, and currently the mega-hit Hamilton.
Museums, Museums, Museums
For even more culture, Chicago brims with some of the world's greatest museums exhibiting some of the most well-known works of art on the planet. For example, The Art Institute of Chicago has Grant Wood's "American Gothic" among its collection. Or channel your inner Indiana Jones and explore ancient cultures at the Field Museum. For something more modern, the Museum of Contemporary Art has rotating exhibitions of some of today's top artists.