Every fashion conscious woman wants to keep up with the latest fashion trends. Some may feel compelled to spend a whole chunk of cash on clothes they're only going to wear a few times. The good news is that you can still wear the latest trends and dress like a celebrity even on a shoestring budget. The key is to have a good understanding of when to invest in pieces and when to save money on clothing. Here's a guide to help you shop for your 2016 wardrobe.
When to save
Let's get started with items you should spend less money on. The list comprises of clothes that you have to switch up often, meaning you're going to need a lot of them. So get inspired by the latest trends and purchase these items at a lower price:
Accessories – Your accessories help you make a fashion statement and you can use them to dress up a boring tee or a dull dress. So it's easy to naturally assume that you should spend more on something that you'll be using as a statement piece. As a matter of fact, you might be better off buying custom jewelry at a lower price. That way, you can buy a few key pieces that you can wear with different outfits.
Tops – Switching up your tops helps you change your look around even when you're wearing the same pants. To ensure that you have the maximum variety of tops in your closet, make sure your purchase them at a lower price. Maybe you could hit the thrift store and grab a few vintage pieces. Victorian blouses are a huge trend so you might be able to find one that looks great on you. What's more is that you can even repurpose the Victorian blouse for a fancy Halloween costume.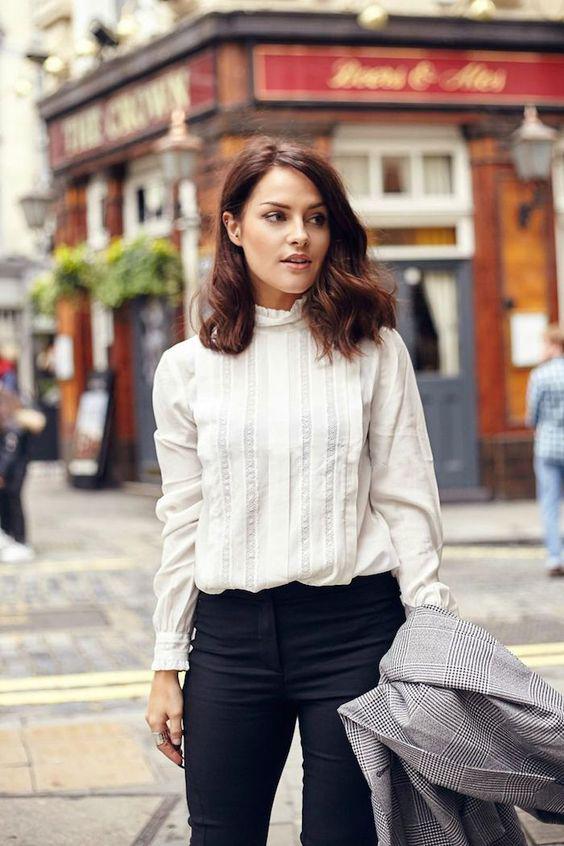 Source: Blog Lovin'
Athletic wear – If you work out a lot, there a chance you're going to be washing your active wear a lot. This means you'll be going through them quickly. So it might be better to buy inexpensive pieces and stock up on athletic leggings.
When to splurge
Now let's get to the part where you spend a little extra on investment pieces that will last for years. Even if they're seasonal clothing, you should be looking for something that you can wear again the next year. So make sure you spend a little more time and money in purchasing these items:
Shoes – It's often said that the shoes you wear say a lot about yourself. Even if you wear a basic jeans and tee ensemble, wearing the right shoes can result in a stylish look. Shoes are worthy of an investment but make sure you avoid buying something that's too trendy that it'll look old-fashioned the next year. Instead, opt for timeless pairs like classic pumps in solid colors and classic white kicks that can work with any outfit.
Source: Mag.Clothing
Trousers – It's not easy to find a pair of trousers that look great and also fit you perfectly. When you finally find one that does, forget the price tag and make a wise investment. It might be best to opt for one in a dark solid color that you can wear for years. Make sure you choose something you can wear to work and for a casual day out. Lighter colors may look great but they can stain easily, so consider your options carefully before splurging on a pair of trousers.
Coat – One thing that you must definitely invest in is the perfect coat. Look for one in a timeless design, as you're going to be wearing it for many years. Opt for solid or neutral colors yet again because you don't want the coat to look over-worn. Maybe black, gray, beige, or brown would be the best option. Otherwise, you could also go for bolder solid colors like deep red or forest green.
Source: Hoard of Trends
Handbag – Your handbag is another piece that's worth investing in. Although your choice will greatly depend on your personal style, it's still a great idea to go for a timeless classic. Maybe a top handle bag or a Grace Kelly-style handbag that will work with what you already have in your closet.
Now you have a brief idea of what pieces you should be spending more on to create a fashionable look. Always remember that you don't always have to spend hundreds of dollars on one piece of clothing. You could always follow the tips given above and also check out thrift stores.