If you're a lover of all things vintage, then you'll have many an hour looking around flea markets, vintage stores, and secondhand clothing stores looking for a hidden gem to add to your wardrobe. You can really find some great finds when you have the time to look. But you can also find some tragedies if you don't have time to properly look or think thoroughly about the piece and what you can do with it. If you're new to vintage fashion, then here are some tips and tricks to make sure that you don't have to spend hours and hours browsing stores or trolling flea markets. You never know, maybe you'll become the next 'Nasty Gal.'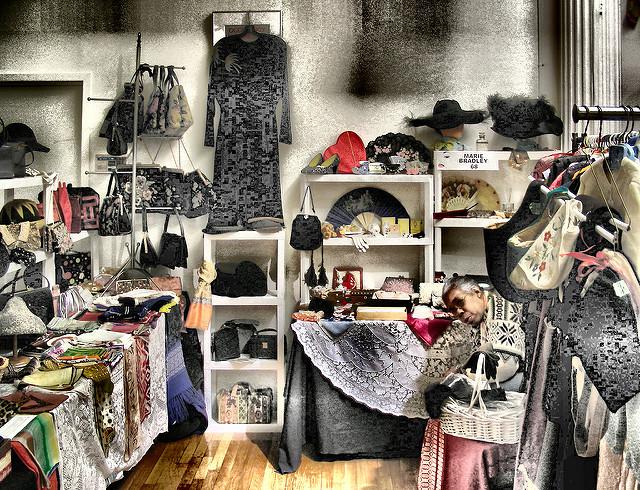 You've got to think about the practicality of trying on outfits on at a thrift store or flea market; changing rooms are going to be pretty much non-existent. So if you can wear something fairly fitting, without layers and layers, then it can make it easier to just try things on over the top. No point spending your money in anything that doesn't fit.
Along the same lines, if the piece of clothing is too small, then really, it needs to go back (unless it has something stellar that you can adapt from it). Larger clothing can often be taken in or customized to fit, like a dress or shirt. So once you've checked sizing, think outside the box about what can be done with it.
When you are looking at vintage and secondhand clothing, then quite often, there may some damage to the pieces. Are there tears, ripped seams, or holes in the items? If so, it isn't the end of the world. You just have to imagine how the piece will be worn, if the damage can be repaired, and if the damage affects the wear.
You don't have to just shop at markets or thrift stores to find the best vintage pieces. You can find some vintage and retro looking pieces by shopping in some mainstreet stores. Even an online site like Nationwide Disc offers customization of t-shirts or band merch, for instance. They could be easily jazzed up to look more retro or vintage with some bleaching or snagging on the hems.
Being able to make a piece of clothing your own is what is going to add to the vintage vibe. So as well as looking out for items of clothing, check flea markets and thrift stores for things like badges, pins, costume jewelry, and sewn on patches. These things can jazz up a plain wool sweater or a black velvet clutch, for instance.
There will be many items of clothing that you will find that have been laying in someone's closet for years on end. They could smell a bit damp and funky. If this is the case, then all is usually not lost. You can use a drycleaner and ask them to deodorize the clothing. Most cleaners will offer this, so take advantage and a vintage coat could be looking as good as new.