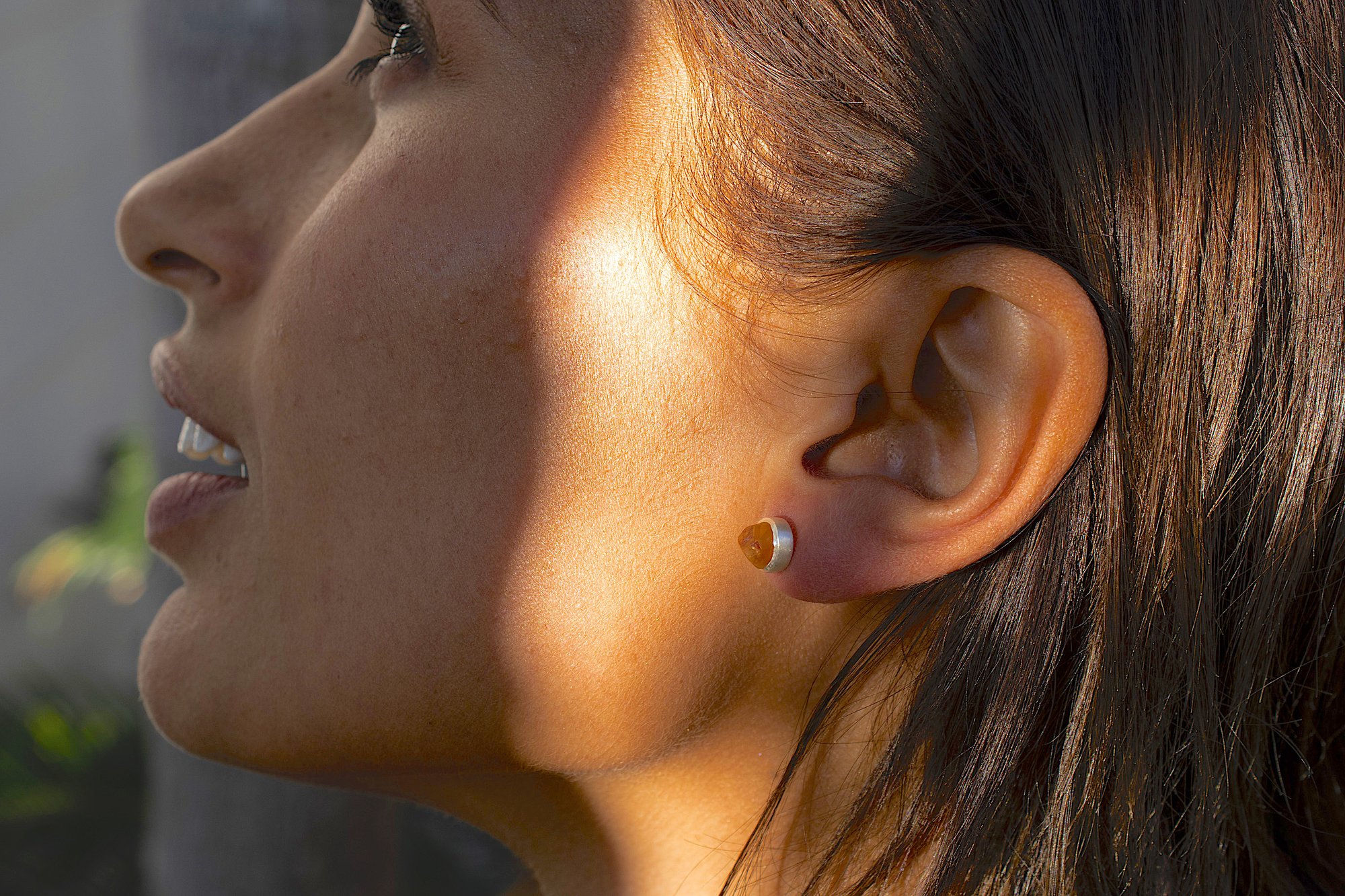 Credit: Lassanai
Minimalism really is the best style out there if you're looking for fuss free everyday wear that looks incredibly effortless, elegant and classic. That stripped back, simple look is also very easy to pull off – naturally, fewer pieces means less time getting ready each day! All that being said, just because you prefer a more minimal aesthetic, doesn't mean you want to totally miss out on all adornments to enhance your outfits! Minimalist earrings are the perfect way of bringing an extra something to your style, without disrupting the overall vibe that you're wanting to create. Here is how to find and style your simple stud earrings to flawlessly encapsulate the spirit of minimalism, each and every day…
Start with the basics
Start by shopping for simple stud earrings. The key to any great decision is by starting simple and shopping slowly. Browse for organically shaped understated styles to get a feel for your minimalist stud earring options. There's a common misconception that you have to stick to strictly basic styles when shopping for minimalist jewelry, but not to worry, you can still find plenty of creative, interesting stud styles that are still understated enough to be minimal.
Decide on tone
Next, metal, this is going to determine pretty much the entire look and feel of your earrings. The best way to decide on metal is to pick your preferred undertone. This can just be a matter of personal preference, or you can factor in your own features to really marry your jewelry to your own coloring. If you have a warmer undertone, you'll likely light up when you wear toasty shades of brown, pink, red and cream. Those who have cooler skin will suit icy whites, blues, purples and greens. Cooler skin tones should veer towards sparkling silver, platinum and white gold whilst warmer toned people will feel at home in golds, rose golds and bronzes.
Always invest
One of the very best things about being a minimalist is that you get to invest in beautifully crafted, high quality pieces that you'll keep and love for countless years to come. Quality always wins over quantity in the world of jewelry. Prepare yourself to invest in a gorgeous pair of stud earrings to find truly amazing items that are unique, well made and seriously special.
Coordinate cohesively
Whether your studs will be shining alone or as part of a contemporary cool stacked ear ensemble, you're going to need to pair them with the right outfit! A massive benefit of minimalist jewelry is that it tends to mix and match flawlessly with almost anything in any wardrobe! The simpler you go, the easier your studs will blend with your clothing. If you stick to a consistent color palette and you prefer beautifully basic threads, you can get a little more playful with your studs. Think about exploring simple yet stunning gemstone earrings, delicate hugger hoops or graceful drop down styles. Maybe you find yourself switching up your style more often than not? If that's you then you should stay on the simpler side of things and look for stud styles with minimal details to get as much wear out of your investment as possible.
Take your time
Lastly, be sure to take your time to find the perfect minimalist studs for you! Rushing your purchase will likely lead to that terrible tinge of buyer's regret down the line, so do yourself a favor and show slowly, sustainably and responsibly!
Are you ready to find your dream pair of simple stud earrings?