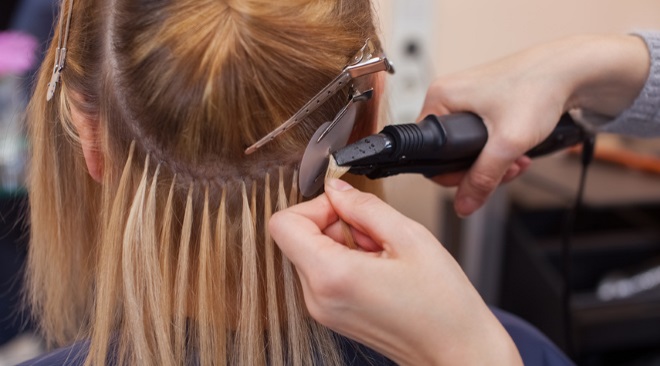 It might sound complicated and a bit bizarre, but extension removal pliers are an essential tool when it comes to the beauty of having keratin-bond extensions or micro-ring extensions. When used properly, this incredible hair gadget is wielded by salon professionals to slide the bonds off your hair with ease, protection and swiftness when you are ready for your extensions removal.
First, let's examine keratin-bond extensions and how they came to be.
These extensions are made from high-quality, small strands of real human hair that is called "virgin" or unprocessed. The extensions look like your own natural hair and come with a keratin-based dried "glue" at one end.
Expert stylists fuse the extensions to your hair via the unique keratin "glue" using heat or ultrasonic waves. This attaches the faux strands perfectly and in uniformity, thanks to the strategic placement of the keratin-bond extensions.
Once the strands are fused, you can enjoy your gorgeous, shiny, long mane and its versatility. You can style your new hair with heat and curl with your mini flat iron; you can also colour your keratin-bond extensions.
When you're ready for something else and wish to have the bonds "crushed," then your hair expert will reach for a pair of quality and dependable hair extension removal pliers. Now, that might sound frightening to imagine a construction worker's tool being applied to your hair, but it's a very different gadget and has nothing to do with the typical handyman's pliers.
This special hair aid resembles a wrench-like tool but is made only for hair, in anti-rust stainless steel and comfortable handles for a smooth and easy grip. To the professional who knows how to use them correctly, this pair of pliers is indispensable for all pre-bonded hair extensions.
Your stylist will usually soak your bonds with acetone first. Then she or he will apply some pressure to the bonds with the hair pliers and crush them. The smart design of the wide jaw of the pliers allows for efficient crushing. As the hair extension slips out of the pliers, the bond begins to loosen and dissolve into dust as it effectively slides off the hair.
Buying a pair of extension removal pliers is a necessity when dealing with keratin or pre-bonded hair extensions and also for micro-ring hair extensions.
Micro-ring extensions can be quickly "popped open" in seconds. Your expert stylist will pick up a bond and with the open jaw of the pliers, clamp around the bond entirely and apply a little squeezing pressure. Instantly, the micro-ring pops open and slides out with ease and zero damage.
It's a very small investment that approaches the removal process in a safe, quick and healthy manner for one's precious crowning glory and the wonderful hair accessories they like to wear.
Hair extensions have revolutionized the way women enhance their beauty, and all the tools and techniques that create a more attractive appearance are invaluable every step of the way.