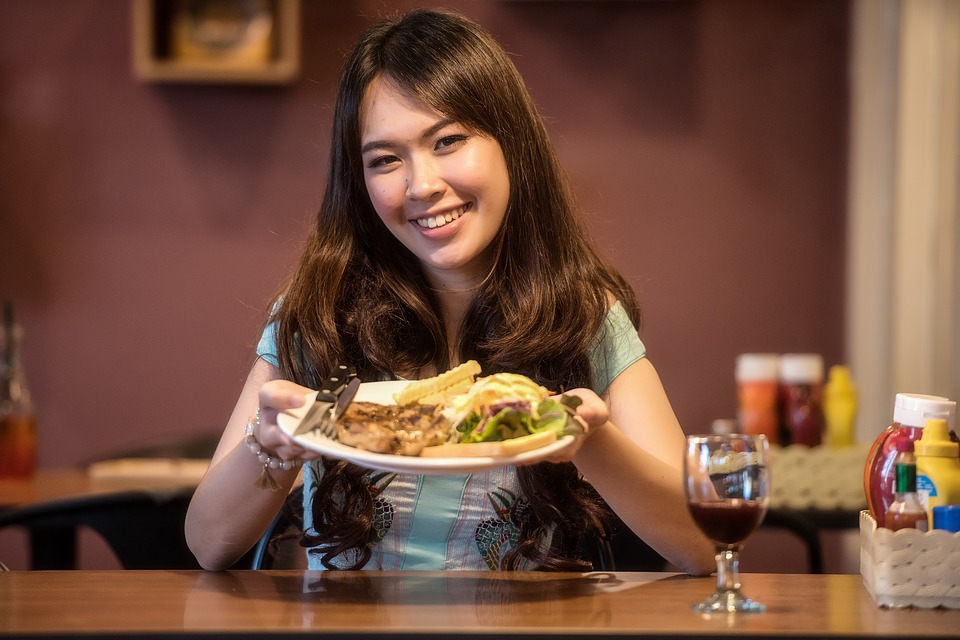 With party season fast approaching, now is the perfect time to throw a dinner party and impress your guests with your cooking skills. If you're trying to eat well despite the temptations of the season, you might think that this is a bad idea. After all, festive dinner parties can often be extremely indulgent, and chances are you'll have quite a few coming up. However, there is a solution – throw a dinner party that celebrates the joys of healthy eating, as well as the spirit of the season.
Canapés
Everyone knows that a dinner party isn't complete without a few nibbles and canapés. That said, a lot of finger food is high in saturated fat and salt (think mini spring rolls, pizza bites, and savoury pastries), and too much of it can spell trouble for blood pressure and cholesterol levels.
A great alternative is to make cucumber canapés. Simply replace the cracker or blini with a thick vertical slice of cucumber before topping with tasty toppings. Leave the skin face down, so that they're still easy to pick up. In terms of toppings, you could try smoked salmon with fresh chives, tuna with wasabi, or crab meat with a dash of lemon juice.
Starters
If you're concerned about healthy eating, your dinner party's starter is probably the easiest course to get right – it's easy to find light salad and soup recipes online. The key thing is to keep an eye on the way you prepare them.
Try to avoid salads that require a lot of processed dressing, croutons, or cheese. A simple dressing of olive oil and balsamic vinegar or lemon juice is your friend – olive oil is packed full of heart-friendly good fats. Pack your salad full of a wide variety of fresh vegetables and try to get as many different colours in there as possible – it'll be a real feast for the eyes.
When it comes to soups, make sure you use fresh ingredients and try to avoid excessive amounts of salt and cream. Ingredients such as butternut squash, carrots, and leeks are good replacements, as they will add a natural creamy texture to the soup while retaining plenty of flavor. Or go for a clear soup with a bold hit of chilli – there are plenty of authentic Thai, Japanese, and Chinese recipes to choose from.
Mains
Your dinner party main is where you really showcase your amazing cooking skills, and for some chefs it's hard to combine crowd appeal with healthy eating. The trick is to find an exciting, delicious ingredient and really celebrate it:
Stuff individual squashes full of tasty ingredients (wild mushrooms, light feta cheese, finely chopped fennel bulbs, garlicky wilted spinach, you name it) and let each guest take the lid off their squash to discover something delicious. Serve the roasted seeds on the side for an optional crunchy topping.
Oily fish like salmon, trout, and mackerel are packed full of omega-3, good fats that can help you look after your heart. Serve baked whole (but boned) and cover in a fresh, spicy dressing with lemon or lime. Serve alongside brown or wild rice and fresh greens.
Make a tart or quiche topped with layers of colourful finely sliced vegetables, arranged in a swirl. It's insanely easy to do, but looks incredibly impressive on the table.
Dessert
A sweet craving can be easily satisfied without overloading on sugar. Fresh berries drizzled in dark chocolate make a great alternative and will still taste just as indulgent as other desserts. This can be done with any kind of fruit, but the tartness of red berries goes really well with smooth, bitter dark chocolate. Make sure you use high quality dark chocolate that's made up of at least 80% cocoa solids. Gently heat the chocolate to melt before drizzling over the berries and serving to your guests.
You're now hopefully inspired to throw your own healthy eating themed dinner party. These ideas are just to start you off – explore other recipes online and have fun creating your own delicious dishes. Your guests will be impressed!