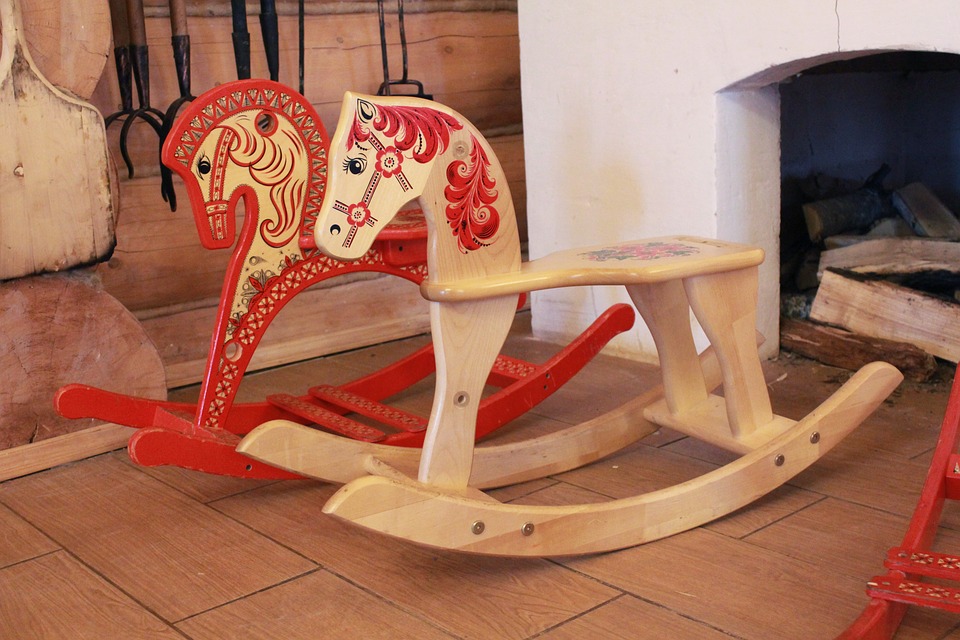 The rocking horse has been entertaining children for hundreds of years, providing hours of fun and enhancing the imaginations of our little ones. Not only are they able to run away with their imaginations in a safe environment, they are also improving basic skills, such as coordination and balance, without being aware of it. The pushing motion of riding the horse helps them to learn new movements, as well as developing the muscles in their upper body.
There are so many different options on the market, with a variety of styles, designs and colours for you to choose from, so much so that it can often be very difficult to choose the right one for your child. We have created a helpful guide to provide you with the information you need when looking for your rocking horse.
Buying the Rocking Horse
When looking to buy a rocking horse, it is important that you conduct research online to help you gather all of the information that you need. Looking online also gives you the opportunity of comparing a number of different products, all from the comfort of your own home.
You can also take a look at different brands that produce rocking horses, researching details about them and looking at some of the reviews and testimonials previous customers may have given them. Well known, reputable brands often produce higher quality products too, meaning that buying a rocking horse from such big brands can bring added safety to your child. Ensuring that the quality of the rocking horse is high is extremely important, firstly because higher quality means more safety for your child, but also because it reduces the possibility of the horse breaking and needing to be replaced.
Choosing your Rocking Horse
When choosing the perfect rocking horse for your child, there are three main areas that you should consider: the horse size, the horse type and the type of stand.
The Size of the Rocking Horse – Considering the size of the rocking horse is very important to the safety of your child. For children aged between 18 months and 5 years, a smaller horse that is lower to the ground and more stable would be much safer as there is less risk of an injury.
The Type of Rocking Horse – The type of horse that you choose really does depend on personal preference and what your child might like the most. You could opt for a more traditional, vintage looking rocking horse or for a modern alternative. There are a variety of different colours and designs available for you to choose from, so you should take your time to look around to find your favourite, both online and in shops.
The Rocking Horse Stand – There are two different types of stands that you should look to compare, including the bow rocker stand and the swing stand. The bow rocker stand is typically used on wooden rocking horses, and features two curved pieces of material attached to the legs of the horse, allowing for the rocking motion. The swing stand features turn poles, offering more stability and taking up less room than bow rocker stands do. However, swing stands do consist of moving parts, meaning that they are more likely to break, and this could be something that you take into consideration.
Author Bio
Babaloo are an online retailer of a wide range of kids clothing and toys, including children's rocking horses from Labebe, Mamas & Papas, FoxHunter and Fisher Price.