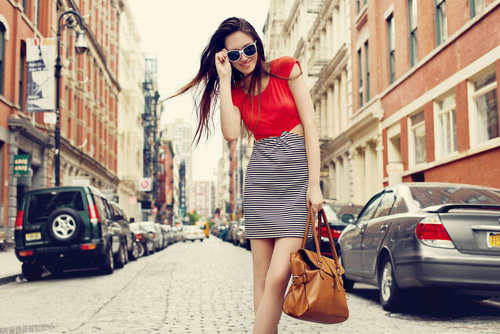 The secret to turning a good outfit into a great one is simpler than you might think. It's all about picking the right accessories. Jewellery and other accessories really set off an outfit, and they are essential in finishing off a look that's as good as it can be. Unfortunately, making the right accessory choices can sometimes seem anything but simple. Here are a few tips that can help you coordinate accessories like a pro, creating more polished outfits and great looks for every season.
Contrasting Proportions
As a general rule, try to contrast your accessories with your outfit when it comes to proportions. Big-and-bold outfits already make a statement, and jewellery should subtly set it off rather than compete for attention. Sleeker and more subtle looks, on the other hand, can often benefit from bigger and more attention-grabbing accessories.
The Power of Earrings
Earrings have a lot of power, but it's not always appropriate to use that power. Big and bold earrings, such as large drops or chunky hoops, can help draw attention to your face and hairstyle. It can also add some much-needed sparkle in a place that will be very prominent to people you interact with. On the other hand, if you would prefer not to draw too much attention, or you feel there is already a lot going on in this area thanks to bold make-up or hairstyling, then subtler earrings can look good without the risk of being too much.
Wear a Belt
Belts are very underrated accessories. They add an extra detail in an area where few other accessories ever tread. They give almost any outfit extra shape, and are especially good at preventing loose, flowing garments from becoming too shapeless. They are also very much in at the moment, as the cinched waist look is definitely among the trends of the current season, and are never really out of fashion.
Express Yourself
You are an individual, and no matter how much of a dedicated follower of fashion you might be your outfits should reflect your personality as well as the current trends. Jewellery and other kinds of accessories are a great opportunity to do this. When you are buying accessories, choose ones that appeal to you and will go well with some of your favourite items of clothing.
Don't Overdo It
It is so easy to get carried away with accessories. We have all been guilty of leaving the house with too much jewellery on at one time or another. Once you think you have chosen all the items you want to wear with an outfit, a good idea can be to take them all off again and then stand in front of a mirror putting them back on one at a time. Start with the ones you think are best or most essential and go from there. After putting each one on, pause and ask yourself whether it has added anything to improve the look. If the answer stops being "yes," you've gone one step too far.
Swanky Swans are a unique brand of women's fashion accessories, including purses, handbags, shoes and scarves, all exclusively designed for 21st century women.